In the eve of my second disillusion of marriage, I reflected on my failures.
I stayed up all night thinking about the hearing to come.
Had I done enough to try to save our marriage?
I thought back to the scenes of abuse that scarred me.
The Thanksgiving Day that he humiliated me and struck me down,
twisting my arm behind my back, forcing me to my knees.
I went to friends for Thanksgiving shortly after that and hid in the bathroom, sobbing quietly.
My friend, Kelly, never knew what happened to me that morning, I hid it so well from her.
Then the time, he took his cane to my knees. The bruises did not fade for three weeks.
How was I to find hope again?
I prayed and sobbed in my bed, unable to sleep.
My dog, Dobber, licked my face.
Like Felix, a beautiful black lab, he recovered from beatings.
My ex-husband beat both animals until they could barely walk.
Why did it take him hurting my dogs for me to leave and seek help.
My self-esteem so low. I could take his blows, but hurt my dog and I fought back.
Part of me felt, I deserved the blows and the hurt.
I made my bed, and in shame, I remained in it.
I still wanted to be his wife that night. I had tried to compromise.
I planned to stay married to him if we lived apart.
I wanted to keep my vows, until death do us part.
But, he wanted to return to our home and live with me. I knew if I took him back, however, he'd kill me the next time. Either instantly or by giving me his disease.
So much for romantic notions of living with him until his end. Celebrating a life together as overcomers.
We pledged to each other 11 years earlier that we'd beat the odds.
I failed him. I sobbed more as I recalled the day of laughter and fun.
He promised me so much, but he couldn't overcome his past and his anger. The cycle of abuse started with his step father. He ended up in juvenile prison after snapping and trying to kill his stepfather whom he said tortured and abused him, beating him until he bled. He went after the man with a knife, but his mother shielded the man and died when her son stabbed her to death.
Why did I believe he'd defeat his anger and demons? Why did I believe in him?
When my romance ended the first time he struck me, I stayed hoping and praying for him.
He said he loved Jesus and accepted Him as His savior.
He prayed with me and we read scriptures.
We had long periods of peace and real love, but the violence overshadowed and destroyed hope. We sat across from each other in the court room, and I told the judge I did not want counseling. I stayed for 11 years hoping he'd conquer his demons and change.
If I stayed, both our lives could end in ruin. He could not control his anger around me. I ended up suffering the brunt of it. Our marriage risked reduction to tragedy if I did not leave him because if he killed me, he'd spend the rest of his life in prison and that was not a future I wanted for either one of us.
James admitted he abused me and said he felt shame, but he blamed me because he promised he would not ever hit me again and I didn't believe in him.  He understood though and accepted my decision. The judge granted the divorce, almost twelve years of marriage gone with his decision.
I met my husband and love of my life in July after the divorce became final, not looking for him. Remarriage not even on the list of possibilities when I visited a dance hall in Liberty, SC. We danced that night and started dating in August 2001, married in April 2002. Then on October 28, 2002, my baby girl came into the world. Her presence a gift a fulfillment of prophesy, hope, and love from my wonderful husband.
In March 2003, a friend called me to tell me James had lost his battle with AIDS. I called the home where he stayed and the director confirmed the news.  The director described how he had carried James from the bed to the window, "Look, you made it to Spring. The garden flowers are blooming." He placed James back in bed and in less than an hour he left this world. I hope James went to heaven.
The director said they had visitation and a service at the home for James. In the opening of the service, James requested the song, "I Can Only Imagine." He had shared with them a poem of his acceptance of Christ.
I cling to the hope that our marriage was not in vain. That in the end, he did find Christ, and he is spending eternity with Him. I hope he has peace, love, and forgiveness.
Life is full of stormy seas that we have to traverse through. My marriage to my husband now has had its storms and rough waters from sickness and financial issues to blending a broken family.
I have a 13-year-old daughter now and three grown children from his first marriage to count as my family. My oldest is a pastor while the youngest of my husband's children answers a call to love children not her own.  His oldest daughter struggles to find her way from heart break over her parents' divorce and has chosen her own rough road.
When I married James (my husband with AIDS), I knew I'd never be a mother.  I shared earlier this month that my daughter's birth presented a picture of redemption at work in my life.  Her birth came with laughter and love.
I wrote in that  post:
I had given up on my dream to be a mother. Then, God rescued me and I found my husband.
Our relationship filled with laughter from the beginning. On our first date, I spilled everything, every mistake, every hurt. He left and I anticipated that he would never return.
He came back the next day with an unusual gift : a pink basket and in it, a baby doll. He said that he returned because I had touched him when I confessed my fears that all my mistakes would mean that I would never have a baby.  He said that he wanted to bless me with one.
His face so sweet and somber, I couldn't believe what I heard so I laughed. Less than two years later, I sat in a hospital laughing again at my doctor's funny words. Then my daughter came into the world in a rush of beauty.
In the midst of this month, my state faced stormy seas and floods that seem to mirror my own life. In the end, though God provided a lifeboat and rescue.  He lead me from the storm to love.
Ocean and sea waves can move huge pieces of driftwood and leave them on beaches.  These pieces may seem stranded and alone, but like us they are beautiful sculptures representing God's work in our lives.
[tweetthis twitter_handles="@MaryHill16″]We are not castaways or forgotten. [/tweetthis]
[tweetthis twitter_handles="@MaryHill16″]God uses tides to move us to His perfect place, where we impact others in ways never dreamed possible.[/tweetthis]
---
Continuing to write for 31 Days, an online writing challenge started by home blogger, Myquillyn Smith (The Nester), and now hosted by Crystal Stine, where bloggers pick one topic and write a post on that topic every day in October. I am also joining my friend Kate Motaung and my friends from the Five Minute Friday community during this challenge. Kate worked with community bloggers to develop the 2015 edition of 31 Days of Five Minute Free Writes, Readers' Choice Awards, a writing link-up in conjunction with the annual Write 31 Days Challenge.  For the five minute, free write sessions, Kate encouraged bloggers to submit ideas for one-word prompts for each day of the challenge. I originally wrote this prompt for Wednesday, Day 28 is : "Hope."  I wanted to celebrate the hope I find in the smile of my daughter so my Wednesday post was actually about her 13th birthday.  I almost did not publish this post until God showed me how it also fits the prompt for Day 29: "Sea."
Linking up with these hops this week: #LifeGivingLinkup; Inspire Me Mondays at Create with Joy, Inspire Me Monday at Angie Ryg,Mama Moments Monday, Motivation Mondays, Good Morning Mondays, Inspire Me Mondays at Table for 7, Mommy Monday Blog Hop, Tell Me a True Story Blog Party, #Words with Winter Linkup, The Book Nook – Blog Party For Book Lovers!,  Totally Terrific Tuesdays, Women with Intention Wednesdays, What to Read Wednesdays, Mom's Library,  A Little R &R Wednesday's linkup, Kid Lit Blog Hop, Booknificent Thursdays, Cozy Reading Spot,  and TGI Saturdays.
Also: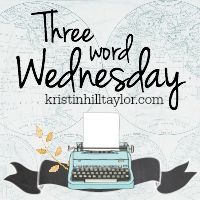 And: LifeGivingLinkup, Tell Me A Story Tuesdays,  Tuesdays with a Twist,  Words With Winter Linkup, Grace at Home party,  #Grace &Truth , #LiveFreeThursdays, Faith & Friends, Faith Filled Fridays, Fellowship Fridays,Friendship Fridays, #DanceWithJesus Friday Linkup and Fridays Unfolded.
Be sure to check out my
linkup party page
for more great linkups that I join regularly.