Trials hit us from all sides. Sometimes they come so fast and furious, we melt down and want to scream, "Why Lord. Where are You? Why is this happening to me?" We sob. We throw our temper tantrums. We rail at Him in anger. We forget how to live the life He wills for us. Can you relate?
I know I can. That is why as a Christian woman, I need an arsenal to fight the Devil. I need a locked and loaded armory of power. I can get it from God's Bible, but how do I find the exact scriptures and the will to read when havoc reigns all around me.
That is why I am so glad that people have walked in my shoes and have provided us with Biblical-based guides to help us overcome no matter where we are at in our faith walk: people like Danise Jurado whose book, Fulfilled: Learning to Live the Life God Promised, released today in paperback.
This book is locked and loaded with practical helps. Danise shows us how she went from the wife of a drug abuser to a woman in partnership with her husband, serving God at one of the largest churches in the United States: Angelus Temple.  She climbed from spiritual poverty to become a pastoral counselor, the director of The Dream Center's Transitional Program, and a nationally-known speaker at conferences and retreats.
How did these breakthroughs happen in her life? She shares her journey in her first book, Fulfilled.  From the first pages, she boldly declares no matter your circumstances, God has a plan for your life and a purpose for you. You just need to first accept your need for Him and accept Him as Lord. If you do so, you will discover overtime that God uses your circumstances to refine you and to grow you.
In her book, she walks you through the process to move from empty to fulfilled. Each chapter in her book is a step in the process. She begins with "forgiveness" showing how we need to forgive ourselves and others for past hurts. She even gives homework and details the process of Biblical forgiveness.
Forgiveness is essential if you and your loved ones are to find restoration, she writes. You have to be willing to pray daily for the person or people whom have harmed you the most. You have to pray blessings in their lives. You have to pray for them out loud.
She writes: "By speaking forgiveness and blessing over those who have hurt us, we are daily drawing a line in the sand, that says, 'I refuse to live in the past! I press forward to discover all God has for me today!' God's love, healing, and strength will accompany you on the daily journey, and the blessing of freedom will be yours to enjoy."
After forgiveness comes a sometimes painful but beautiful process of restoration. It too is a daily journey, Danise instructs:  a journey where God uses your pain and damaged relationships to show you how real He is and how He can work miracles even in the most difficult circumstances. Restoration takes obedience to God's Word. Danise reveals that she had to stop robbing God and tithe to her church because God wanted her to "completely trust in Him and all His blessings."
Her obedience led to small breakthroughs in her husband's life. He entered rehab to combat his drug problem. God restored her husband and miracles happened in her married life. Kurt became a man of God who serves Him to this day.
Her story did not stop there, however. She had more things God wanted to work on.  Just as He has a special work in Danise's life, he has a plan for each of us. His work in our lives is a continuing journey as we learn about God's truth and His abilitiy to break us free of sins and chains in life. Living a fulfilled life also means that we need to be willing to change and grow in Him. Lasting change like restoration is  a process.  In the pages of this book, Danise also deals with how to face adversity through real perseverance to find joy.
This book is a journey and a life study. It is one that you will  need to keep a journal to read because as you turn the pages you will travel your own path to forgiveness, restoration, and perseverance as God brings you through to fulfillment.
I highly recommend you purchase this book! Today, you can get the Kindle version  for just .99 cent. Just click on this link. But hurry, this deal ends tonight!  You can also purchase your paperback copy of this book here.
Remember, no matter how you purchase this book, 50 percent of the proceeds goes to benefit The Dream Center in Los Angeles. The center serves more than 85,000 needy people a month, helping them with spiritual, housing, and medical issues.  When you buy this book, you help yourself learn to live a fulfilled life while helping countless others find their own fulfilled lives in Christ.
Also, I am proud to have a free signed copy of Fulfilled that I want to give away to one of my readers. Just complete the giveaway form below. Good luck!
---
Disclaimer: I received two copies of this book from the author in exchange for my honest review. I am giving one of these copies away. 🙂 I do not give negative reviews on my blog. If I don't like a book, I will not waste my readers' time with a negative review. I am very selective of the books I review. I only request copies of books that I really think are going to be life changing and excellent! I have also included affiliate links in this post. If you use my links, I will receive a very small percentage of the sale which I will use toward my blogging expenses. Thanks for your support!
---
Contributing to these hops: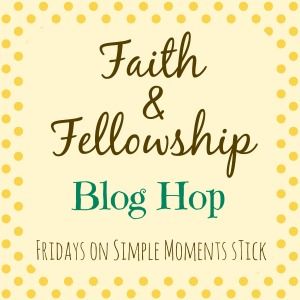 Inspire Me Mondays at Create with Joy, Inspire Me Monday at Angie Ryg,Mama Moments Monday, Motivation Mondays, Good Morning Mondays, Inspire Me Mondays at Table for 7, Mommy Monday Blog Hop, The Book Nook – Blog Party For Book Lovers!, What to Read Wednesdays, and Booknificent Thursdays.
Be sure to check out my linkup party page for more great linkups that I join regularly.