God what is wrong,
Why do I feel my life is in crash mode?
It seems I make progress and something simple send me reeling.
Sometimes I over react to crashes in my faith.
A small bump in the rode, nothing major.
I seem to forget all the major storms that you have seen me through.
I forgot the night you rescued me from destruction.
The night I felt your peace and love enter my heart
When my life crashed around me in blaze of hurt and pain.
You came and held me and comforted me.
You saw me through the worst times in my life.
But now this problem seems so much bigger than it is.
It is a fender bender compared to the other crashes in my life.
I am ashamed I let my faith waver even for a minute.
Jesus, I know you will see my family through this latest problem.
You protection and love will blanket my family.
You are my life preserver. My rock.  My deliverer.
The next time I let my faith crash,
Lord I will try to remember
You delivered me from worse, and heaven forbid that if time brings
A storm so large it threatens to wash faith and peace completely away.
I will strive to remember you are greater than any storm.
I will also remember those whom you have rescued from even worse situations.
If you can rescue them, you will save me.
You will protect me and bring me through.
No crash exists that you cannot protect me through.
You have already defeated my problems when you died on the cross for me.
You saved me already from the worst crash I could ever have had.
If not for you, when I die. my destiny included crashing Hell wide open,
But I am heaven bound though with the hammer down.
The only crashing I will do is through the pearly gates of my Heavenly Home.
I can sing!
It is Well With My Soul.
---
Continuing to write for 31 Days, an online writing challenge started by home blogger, Myquillyn Smith (The Nester), and now hosted by Crystal Stine, where bloggers pick one topic and write a post on that topic every day in October. I am also joining my friend Kate Motaung and my friends from the Five Minute Friday community during this challenge. Kate worked with community bloggers to develop the 2015 edition of 31 Days of Five Minute Free Writes, Readers' Choice Awards, a writing link-up in conjunction with the annual Write 31 Days Challenge.  For the five minute, free write sessions, Kate encouraged bloggers to submit ideas for one-word prompts for each day of the challenge. The prompt for Sunday, Day 25 is : "Crash."
Linking up with these hops this week: #LifeGivingLinkup; Inspire Me Mondays at Create with Joy, Inspire Me Monday at Angie Ryg,Mama Moments Monday, Motivation Mondays, Good Morning Mondays, Inspire Me Mondays at Table for 7, Mommy Monday Blog Hop, Tell Me a True Story Blog Party, #Words with Winter Linkup, The Book Nook – Blog Party For Book Lovers!,  Totally Terrific Tuesdays, Women with Intention Wednesdays, What to Read Wednesdays, Mom's Library,  A Little R &R Wednesday's linkup, Kid Lit Blog Hop, Booknificent Thursdays, Cozy Reading Spot,  and TGI Saturdays.
Also: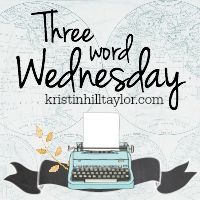 And: LifeGivingLinkup, Tell Me A Story Tuesdays,  Tuesdays with a Twist,  Words With Winter Linkup, Grace at Home party,  #Grace &Truth , #LiveFreeThursdays, Faith & Friends, Faith Filled Fridays, Fellowship Fridays,Friendship Fridays, #DanceWithJesus Friday Linkup and Fridays Unfolded.
Be sure to check out my
linkup party page
for more great linkups that I join regularly.