Perhaps … is  a change word. When you see it in writing it means a change of thought is coming.
Thoughts of perhaps linger in my mind. Sometimes these thoughts turn toward negative messages. If I decided to not marry my late husband perhaps I would escape the abuse I suffered and the fear I felt. Perhaps …
If I had not … perhaps this.
Perhaps is not a good word in this respect. Messages of doubt win in the mind. Messages of guilt and  shame override any desire I have to reach out and make a difference.
[tweetthis twitter_handles="@MaryHill16″]My life is a big "perhaps."[/tweetthis]
I should have not married my late husbands. My first husband abandoned me and our marriage. My second husband abused me and hurt me deeply.
Perhaps I should not have married either man. My life story then centered on rebellion; not listening to my parents and going my way. Perhaps I deserved everything that transpired.
Perhaps God's ways are not mine. Perhaps,  I served Him in choosing these roads despite my parents' objections?
Perhaps God used these decision in ways I don't understand.  I made wrong decisions, perhaps an unseen narrative is at work.
Perhaps Romans 8:28 applies: "And we know that all things work together for good to them that love God, to them who are the called according to his purpose."
All things work together — even my mistakes and even my tragedies. When I made these decisions, I served Christ and loved Him.  I know I sinned, but I belonged to Christ and loved Him. My heart condition leaned toward love even in my sin. I desired that these two men know Christ and even witnessed to them. Perhaps they are in heaven now and forgiven.
If so perhaps, God used me to reach them.
Perhaps brings change. Perhaps serves a dual meaning: word of guilt and regret, but it can bring empowerment and love.
[tweetthis twitter_handles="@MaryHill16″]Perhaps my focus should be forward thinking not past thinking. [/tweetthis] I should forget those things behind and press forward toward Him and His calling for my life.(Philippians 3: 13-14)
---
Continuing to write for 31 Days, an online writing challenge started by home blogger, Myquillyn Smith (The Nester), and now hosted by Crystal Stine, where bloggers pick one topic and write a post on that topic every day in October. I am also joining my friend Kate Motaung and my friends from the Five Minute Friday community during this challenge. Kate worked with community bloggers to develop the 2015 edition of 31 Days of Five Minute Free Writes, Readers' Choice Awards, a writing link-up in conjunction with the annual Write 31 Days Challenge.  For the five minute, free write sessions, Kate encouraged bloggers to submit ideas for one-word prompts for each day of the challenge. The prompt for Tuesday, Day 27 is : "Perhaps."
Linking up with these hops this week: #LifeGivingLinkup; Inspire Me Mondays at Create with Joy, Inspire Me Monday at Angie Ryg,Mama Moments Monday, Motivation Mondays, Good Morning Mondays, Inspire Me Mondays at Table for 7, Mommy Monday Blog Hop, Tell Me a True Story Blog Party, #Words with Winter Linkup, The Book Nook – Blog Party For Book Lovers!,  Totally Terrific Tuesdays, Women with Intention Wednesdays, What to Read Wednesdays, Mom's Library,  A Little R &R Wednesday's linkup, Kid Lit Blog Hop, Booknificent Thursdays, Cozy Reading Spot,  and TGI Saturdays.
Also: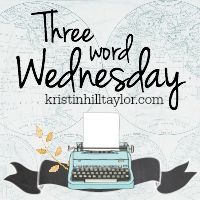 And: LifeGivingLinkup, Tell Me A Story Tuesdays,  Tuesdays with a Twist,  Words With Winter Linkup, Grace at Home party,  #Grace &Truth , #LiveFreeThursdays, Faith & Friends, Faith Filled Fridays, Fellowship Fridays,Friendship Fridays, #DanceWithJesus Friday Linkup and Fridays Unfolded.
Be sure to check out my
linkup party page
for more great linkups that I join regularly.