Psalms 93:4 The LORD on high is mightier than the noise of many waters, yea, than the mighty waves of the sea.
Emotional and physical waves rocked my world throughout my short 48 years on this earth. I witness personal tsunamis that threatened to overwhelm me. Crests so high my sight blocked to see a way through.
My first marriage ended in shame; my second in abuse. Both my late husbands left this world shortly after our marriages dissolved. I found whom I believe to be the man God destined for me to be with. We are raising a beautiful child. In the midst of my joy come more storms of illness, depression, and loneliness. Even today, another wave threatens to engulf my family.
I could wonder why waves of despair seem to cling to my soul or I could cling to the life raft God has offered in His only son.
He provides an escape, a rescue. I just have to cling and hold fast to Him. He stands on the crest of the current waves threatening to destroy and bids us come. Look to Him, don't cast our eyes and watch the tempest that roars. Be like Peter, dare to step out of the boat and walk upon the storm waves pounding your life and walk directly to Him. He waits for you and He will calm your storm or He will hold your hand through it.
What wave do you face today?
---
Do you need a special blessing today? Check out the 31 Day's Sweepstakes. You could be blessed with a tremendous prize. Please enter below.
Good luck and God bless. 🙂
Just click here to enter.
---
Continuing to write for 31 Days, an online writing challenge started by home blogger, Myquillyn Smith (The Nester), and now hosted by Crystal Stine, where bloggers pick one topic and write a post on that topic every day in October. I am also joining my friend Kate Motaung and my friends from the Five Minute Friday community during this challenge. Kate worked with community bloggers to develop the 2015 edition of 31 Days of Five Minute Free Writes, Readers' Choice Awards, a writing link-up in conjunction with the annual Write 31 Days Challenge.  For the five minute, free write sessions, Kate encouraged bloggers to submit ideas for one-word prompts for each day of the challenge. The prompt for Monday is : "Wave."
Linking up with these hops this week: #LifeGivingLinkup; Inspire Me Mondays at Create with Joy, Inspire Me Monday at Angie Ryg,Mama Moments Monday, Motivation Mondays, Good Morning Mondays, Inspire Me Mondays at Table for 7, Mommy Monday Blog Hop, Tell Me a True Story Blog Party, #Words with Winter Linkup, The Book Nook – Blog Party For Book Lovers!,  Totally Terrific Tuesdays, Women with Intention Wednesdays, What to Read Wednesdays, Mom's Library,  A Little R &R Wednesday's linkup, Kid Lit Blog Hop, Booknificent Thursdays, Cozy Reading Spot,  and TGI Saturdays.
Also: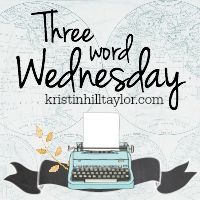 And: LifeGivingLinkup, Tell Me A Story Tuesdays,  Tuesdays with a Twist,  Words With Winter Linkup, Grace at Home party,  #Grace &Truth , #LiveFreeThursdays, Faith & Friends, Faith Filled Fridays, Fellowship Fridays,Friendship Fridays, #DanceWithJesus Friday Linkup and Fridays Unfolded.
Be sure to check out my
linkup party page
for more great linkups that I join regularly.