Silent Night a song we sing just one time a year.
Joy to the World only rings in the Christmas season it seems.
Silent joy rings through my heart
No matter the season,
No matter the cirumstances
My Jesus is a live throughout the year.
His Truths are solid no matter what storms rack my life.
No matter the problems or tribulations,
I will praise in Joy, not silently
But LOUDLY and Transcending
Words, Songs, Actions, and Daily Walk.
What is your heart singing today? What are your prayers as the week ends?
[tweetthis twitter_handles="@MaryHill16″ display_mode="box"]Jesus waits for you with outstretched hands as you continue on your spiritual journey[/tweetthis]
Reach to Him
He will receive you in Love.
---
Continuing to write for 31 Days, an online writing challenge started by home blogger, Myquillyn Smith (The Nester), and now hosted by Crystal Stine, where bloggers pick one topic and write a post on that topic every day in October. I am also joining my friend Kate Motaung and my friends from the Five Minute Friday community during this challenge. Kate worked with community bloggers to develop the 2015 edition of 31 Days of Five Minute Free Writes, Readers' Choice Awards, a writing link-up in conjunction with the annual Write 31 Days Challenge.  For the five minute, free write sessions, Kate encouraged bloggers to submit ideas for one-word prompts for each day of the challenge. The prompts for Friday and Saturdays, Day 23 and 25, are: "Silence"  and "Joy."
Linking up with these hops this week: #LifeGivingLinkup; Inspire Me Mondays at Create with Joy, Inspire Me Monday at Angie Ryg,Mama Moments Monday, Motivation Mondays, Good Morning Mondays, Inspire Me Mondays at Table for 7, Mommy Monday Blog Hop, Tell Me a True Story Blog Party, #Words with Winter Linkup, The Book Nook – Blog Party For Book Lovers!,  Totally Terrific Tuesdays, Women with Intention Wednesdays, What to Read Wednesdays, Mom's Library,  A Little R &R Wednesday's linkup, Kid Lit Blog Hop, Booknificent Thursdays, Cozy Reading Spot,  and TGI Saturdays.
Also: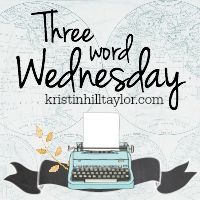 And: LifeGivingLinkup, Tell Me A Story Tuesdays,  Tuesdays with a Twist,  Words With Winter Linkup, Grace at Home party,  #Grace &Truth , #LiveFreeThursdays, Faith & Friends, Faith Filled Fridays, Fellowship Fridays,Friendship Fridays, #DanceWithJesus Friday Linkup and Fridays Unfolded.
Be sure to check out my
linkup party page
for more great linkups that I join regularly.