Storms and floods have rocked my world so many times in the past.  They shook me to my foundation, but they never rocked my faith in God. My friend, Kelly Marshall Fuller knows a lot about my storms. We have been friends since college. She covered Hurricane Hugo in Charleston riding the storm out at the Charleston Post & Courier.
When I started writing about the recent historic flooding in my home state of South Carolina, she stayed on my mind because she lives in ground zero for the worst flooding in our state: Georgetown.
In my dreams over the past year, I saw flooding. I am not a prophet or psychic, and I never thought these were glimpses of the future, but images of massive amounts of water pouring into the streets of my old neighborhoods haunted me. I didn't know what to do with these images so I just shrugged them away.
I worried about Kelly and called her a lot when the flooding started 10 days ago, and we chatted on Facebook. Through it all, even though she faced some dire times, she made me laugh.
She talked about some sad situations but used humor to lighten her situation. The waters started to rise Friday, October 2. Luckily, her house is situated on a hill overlooking the river: the highest point on her street. The flood waters turned her yard into an island, and her neighbors' houses submerged quickly under the flash flood. The roads became impassable. They planned supplies for a weekend, but ran out last Wednesday.
"I could go to a shelter, but I don't want to leave my animals. Who is going to feed them?"
She hitched a ride with neighbors in a four-wheel drive truck to Walmart in town. When she got there she went "turbo shopping for supplies." Then more flood waters moved down the massive rivers south from Columbia last Thursday and Friday.  The river rose even more around her home. "They are saying it could be another week before the flood waters reside."
"People are living in travel campers on our street because their homes are flooded. We don't have a way to work or town. We are stuck in the flood. It takes us about a half a day to get to town on a make-shift dirt road that is flooded in places."
"I thought I was done with storms. I'm married to a wonderful guy. My kids are happy. I like my work as a freelance writer and a substitute teacher. Then, all of a sudden, it all fell apart. My dad turned 80. His health is sort of up and down. My children and stepchildren revealed new struggles with work and personal relationships. It started raining.And it rained and rained and rained…and rained."
She can't get to work as a substitute teacher for Horry and Georgetown school districts through the flood waters.
"I called to apply for the disaster unemployment, and the woman told me I had to be actively looking for work to qualify. I was like, I can't get off my street?  Everything is under water out in the county. How am I going to look for a job? Paddle around in a boat?  If I can't get to the schools to substitute, I don't get paid. They are supposed to open the schools tomorrow, but I don't have a way to get to work."
She is worried about paying her mortgage and bills. Her husband is stranded too with no way to get to work.
"God doesn't promise us … No more rain. People get old, roofs collapse, marriages go sour. You just gotta have faith that God will get you through the storm…one more time. I'm living proof of that."
---
Continuing to write for 31 Days, an online writing challenge started by home blogger, Myquillyn Smith (The Nester), and now hosted by Crystal Stine, where bloggers pick one topic and write a post on that topic every day in October. I am also joining my friend Kate Motaung and my friends from the Five Minute Friday community during this challenge. Kate worked with community bloggers to develop the 2015 edition of 31 Days of Five Minute Free Writes, Readers' Choice Awards, a writing link-up in conjunction with the annual Write 31 Days Challenge.  For the five minute, free write sessions, Kate encouraged bloggers to submit ideas for one-word prompts for each day of the challenge. Today's word: "Storm."
Also joining these hops: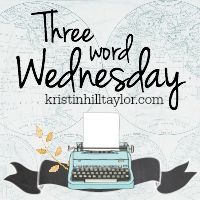 And: LifeGivingLinkup, Tell Me A Story Tuesdays,  Tuesdays with a Twist,  Words With Winter Linkup, Grace at Home party,  #Grace &Truth , #LiveFreeThursdays, Faith & Friends, Faith Filled Fridays, Fellowship Fridays,Friendship Fridays, #DanceWithJesus Friday Linkup andFridays Unfolded.
Be sure to check out my
linkup party page
for more great linkups that I join regularly.