Jesus Comforts Me in the Darkness
My night stretched into the darkness as I ran out of my home to find safety from my late husband. I have shared openly that I faced domestic violence in my previous marriage. I do not claim victimization, however, God rescued me in the night. He brought me out to safety and used dear friends to help me find a new life.
I shared details of that last night and my subsequent decision for divorce before, but I want to share a little more about that dark night and the sweet whispers of hope and love I felt stir my soul on one of the most terrible nights of my life.  My friends retrieved me from my home after police arrived and discovered my ex-husband ran rather than face possible arrest.
I didn't call my mom. I felt like a failure and so ashamed at the sight of my blackened eye. My friends took pictures of my face which I shared later with my lawyer when I filed for divorce.
That night, alone in a spare bedroom at my friends house, I did not sleep. I sobbed and rocked on the bed, praying for God's guidance.
"How did I get here? Why, Lord," I whispered not wanting to wake my friend or disturb her. "Should I just take him back? Maybe things will get better."
I knew deep down though, my marriage ended with my decision to call the police. I could not trust him ever again. I escaped this time with just a black eye. He bloodied his knuckles on my eye though. I remember seeing the blood in alarm.
I had a small cut on my eye too. He knew he could have sentenced me to a life with AIDS too. He was HIV positive and had full-blown AIDS. I married him with full knowledge of his condition because I wanted to rescue him and provide him a wonderful, loving life.  His story is dark and complicated, but I felt I could make a difference in his life. Point him to Christ. I think I did. He confessed salvation at one point in our marriage, but his dark, stormy past haunted him, and he could not overcome the anger that festered inside his heart.
I prayed for him and prayed God's love would prevail.  But no matter how much I prayed I could not see myself returning to  him.  The Holy Spirit whispered into my mind. "All is well. You are loved."
The dawn crept into the room, and I realized sleep never came. I took a shower and went to the doctor.  She was alarmed at my eye because she knew about my husband's positive status. She urged me to go to a domestic abuse shelter. I didn't though. I went back to my house to find him sitting in a chair.
My friend came with me and helped me pack my bags. He didn't say a word to either one of us. His silence scared me, but I left without any incident.
He called me later and asked what I intended to do. I told him that I had talked to his social worker with the special AIDS program that helped us periodically with issues. They found him a spot at a special home for AIDS patients. I wanted him to move to the home, and we would go from there. He agreed to move.
At that point, I determined to stay married to him but keep my distance and let the nurses and social workers at the home care for him. I could visit in the evenings and on weekends, but we could never live together again. When I discussed my decision with him, he became very angry, and I had to leave him. The director at the home asked me not to return because we could not visit without arguing.  If he became violent again, he would end up homeless because they would have to kick him out of the home.
I filed for divorce. He had safety. He had a home and people to take care of him. He accepted my decision, and we divorced without further violence in June 2001.
The court sent me the final papers the weekend before I went to a Beth Moore conference in Charlotte, NC. Her message the first night confirmed my decision. She spoke on fleeing dark relationships.
I worshiped as the her praise band performed. I felt the Holy Spirit encompass me with whispers of love. I knew the Lord rescued me. He knew my future and his plans for my life were perfect and beautiful.
(To be continued)
---
Continuing to write for 31 Days, an online writing challenge started by home blogger, Myquillyn Smith (The Nester), and now hosted by Crystal Stine, where bloggers pick one topic and write a post on that topic every day in October. I am also joining my friend Kate Motaung and my friends from the Five Minute Friday community during this challenge. Kate worked with community bloggers to develop the 2015 edition of 31 Days of Five Minute Free Writes, Readers' Choice Awards, a writing link-up in conjunction with the annual Write 31 Days Challenge.  For the five minute, free write sessions, Kate encouraged bloggers to submit ideas for one-word prompts for each day of the challenge. The prompt for Monday, Day 26 is : "Whisper."
Linking up with these hops this week: #LifeGivingLinkup; Inspire Me Mondays at Create with Joy, Inspire Me Monday at Angie Ryg,Mama Moments Monday, Motivation Mondays, Good Morning Mondays, Inspire Me Mondays at Table for 7, Mommy Monday Blog Hop, Tell Me a True Story Blog Party, #Words with Winter Linkup, The Book Nook – Blog Party For Book Lovers!,  Totally Terrific Tuesdays, Women with Intention Wednesdays, What to Read Wednesdays, Mom's Library,  A Little R &R Wednesday's linkup, Kid Lit Blog Hop, Booknificent Thursdays, Cozy Reading Spot,  and TGI Saturdays.
Also: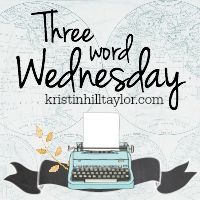 And: LifeGivingLinkup, Tell Me A Story Tuesdays,  Tuesdays with a Twist,  Words With Winter Linkup, Grace at Home party,  #Grace &Truth , #LiveFreeThursdays, Faith & Friends, Faith Filled Fridays, Fellowship Fridays,Friendship Fridays, #DanceWithJesus Friday Linkup and Fridays Unfolded.
Be sure to check out my
linkup party page
for more great linkups that I join regularly.