Hi, welcome back to Literacy Musing Mondays: the place for great resources on writing, blogging, reading, books, learning, and literacy. We continue with great guest hosts and posts.  Today, we hear from Joanna May Chee who writes about great resources to help cultivate love in your family. I hope you will enjoy it.
3 Great Books (and a free resource) to Help 
Cultivate Love in Your Family
By Joanna May Chee

(This post contains affiliate links, meaning that if you click through and make a purchase, Joanna may receive a small commission, at no extra cost to you. Thank you for your support in this way.)
A week's gone by since Valentine's Day. How was yours?
Maybe you felt showered with love, with cards from the kids, and flowers from your husband.
Maybe you're still secretly hurting that it was a day like any other, maybe worse than any other. You longed for a tender word, a treasured moment, a thoughtful gift. It did not happen.
Or maybe it simply did not happen in the way that would have most touched your heart.
Life passes by. Valentine's Days come and go. Good ones and not-so-good ones.
It's got me thinking.
How can we be intentional in love all year round, not just on the special days? How can we cultivate love in our families, so that a 'not-so-good' Valentine's Day doesn't really matter (because actually it might be the next day that your husband tells you how beautiful you are, or the next week that your child gives you a special gift they made).
And how can we, as wives and mums, be intentional in loving our husband and our kids?
Now, I do love. A lot. Every day.
I cook. I wash clothes (lots of them). I snuggle and play with my kids (and my husband). I listen. I encourage. I wipe tears. I cook and wash some more. I pour myself out in love.
But, when was the last time I actively thought, 'How can I show my husband how special he is to me this week?' or 'How can I love my child in a way that uniquely touches his heart today?' and actually make a plan and put it into action?
That's a different kind of loving. It's loving by intention, not just by default.
Loving by default is good. It's real. It's everyday life. We need to do this.
But just how special is loving by intention? You'll know from the precious times when you've been the recipient.
There are some great books out there on loving our husbands, and on loving our kids. The best ones I know on how to love with intention are the books in The 5 Love Languages series by Gary Chapman.
The premise of this series is that everyone receives love in different ways, whether that be words of affirmation, physical touch, quality time, gifts or acts of service. The books identify these 5 Love Languages, and then give great ideas on how to intentionally love in each of these ways.

The 5 Love Languages: The Secret to Love that Lasts
is for married couples. My husband and I read this many years ago, and, boy, did it impact our marriage! (I now understand why I was so upset when my husband mysteriously disappeared on the eve of my birthday to buy me flowers, when all I wanted was the time with him.)

The 5 Love Languages of Children
includes a Love Language Mystery Game to help identify your child's primary love language, plus lots of ideas to put this loving into action. Apart from anything else, it's just a wonderful parenting book!

The 5 Love Languages of Teenagers: The Secret to Loving Teens Effectively
. I've just started reading this book, and am amazed at the insights and ideas I'm gaining. Loving teens is a whole new ball-game. I'm really excited to read more.
(The book links above take you to Amazon US. Use this link for Amazon UK.)
Well, if you're like me, reading one of these books is the easy part, the putting into action is more difficult!
So, let me also introduce you to a new resource I've written: The Cultivate Love Challenge: 50+ Ideas and Resources to Help Your Family Grow in Love.
The Cultivate Love Challenge is
a FREE resource to strengthen your marriage, deepen your relationship with your kids, and help your children grow in friendship.
30 pages of great ideas, AND the planners and printables you need to put them into action.
a community of mums and moms, encouraging each other to be intentional in love.
something I'm doing with my own family, and will be posting updates on each month.
I'm excited about it. And I'd love for you to join me!
You can click here to find out more, and get 'The Cultivate Love Challenge' for FREE.
Let's do this together! Let's encourage our families to be intentional in love all year round (not just on Valentine's Day).
Joanna May Chee is from the UK, but currently lives in Turkey with her family. She has four lovely children, aged 17, 16, 13 and 11. Joanna blogs at Mums.Kids.Jesus where she shares ideas, inspiration and encouragement for mums and moms! Her post 110 Great Books for Boys was previously featured as Leslie's favourite post on Literacy Musing Mondays. You can follow Joanna on Facebook and Pinterest.
---
Top Commentor
Now on to our #LMMLinkup!  The first order of business is to announce the winner of our commenting contest: Beth Strickenburg. Beth commented on 70 of our blog posts this week!
Beth is a homeschool mom, and can often be found under a tree reading aloud to her son. She has a masters in French Literature, and loves all things French and literary. Her blog features reviews of books for all ages, including a number of book lists for homeschoolers. She blogs at: Pages and Margins. I hope everyone will visit her this week and leave great comments! You can also follow her on her Facebook page.
Remember the Top Commentor will be a regular feature at Literacy Musing Mondays. To participate each week,  submit to Mary a report on the number of and names of the blog posts in each week's linkup on which you commented. Her email address is marykatbpcsc45 @ gmail (dot)com. The report is due in her email inbox by midnight Friday. Also you do not have to be a blogger to be honored as the top commentor. All Literacy Musing Mondays participants are invited to participate.  If you are a blogger, we will promote your  family-friendly blog across all of our social media sites. 😉
---
Next, let's
Ashley @Circling the Story
Blog/Facebook/Twitter/Pinterest/Instagram
Leslie@Forever Joyful  
Blog/Facebook/Twitter/Pinterest/Google+
Mary @Maryandering Creatively  
Blog/Facebook/Twitter/Pinterest/ Instagram/Google+
Tami @ThisMomsDelight    
Blog/Facebook/Pinterest/Twitter/Instagram/Google Plus
---
Last Week's Top Clicked Post!
In this post Donna discusses the book: Because He Loves Me: How Christ Transforms Our Daily Life by Elyse Fitzpatrick. She gets to the heart of the book by quoting: "It's essential for us to think about God's love today because it is only his love that can grant us the joy that will strengthen our hearts." This review is a fascinating read because it goes beyond a "book review" and points out truths for us to ponder and savor. I hope you will check it out. Plus, Donna also has a great linkup each week called Mondays @ Soul Survival. It is a great place to meet new bloggers and build your readership. I highly recommend it.
My Favorite Post of the Week:
By Tara at Embark on the Journey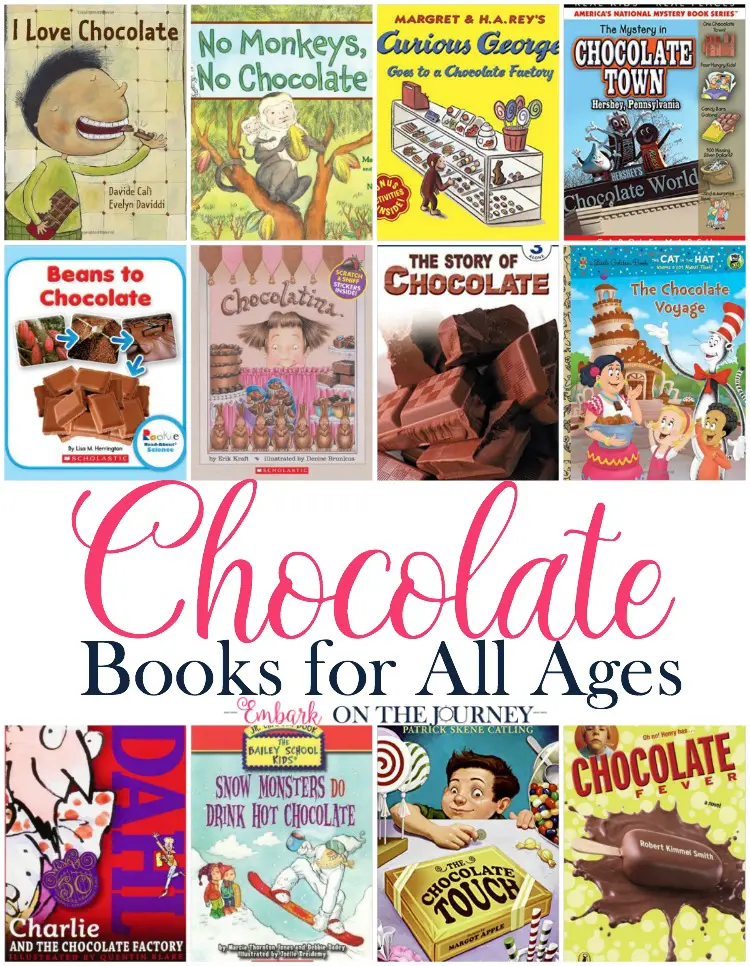 What can I say? I love chocolate and this post eased my cravings (well more like sent them into overdrive. LOL) I never knew so many fun books existed about the love of chocolate. This post is a fun, not miss. Plus, Tara also hosts another great linkup on Wednesdays for book lovers called :
What to Read Wednesdays
. If you write about children's literature or other family-friendly post, this is a great linkup to join.
Be sure to visit the other co-hosts' pages to see if your post was selected as one of their favorites for the week!
Want to be the next to be featured! Just link up a post and if you are read the most, we will feature you. Also please make sure you link back to us so  others will know about our link up and join in. We try to make it worth your while to linkup with us by promoting your posts across our social media networks. We also pin our most clicked and featured posts to our Pinterest Board each week!
Follow Mary Hill's board Literacy Musing Mondays Linkup on Pinterest.
---
Now, it is time to link up to the Literacy Musing Mondays hop! You will have until Saturdays at 12 p.m. now to link up! So come back often.
Linkup Rules:
Include a link back or the blog hop button linked to this hop on your posts.

Link up the urls to your posts not to your blog.

Please remember this is a family-friendly linkup.  Although we believe in the right for adults to read whatever they want to read, we prefer to read wholesome posts that feature literature that edify and uplift families. We reserve the right to delete any posts that are not family friendly. We love all kinds of literature and genres including family-friendly inspirational romances, fantasy, or science fiction. We do not welcome posts featuring books or written with excessive violence, sexual content, or cursing. These posts will be deleted.
We also want to be loving community by supporting one another. Please make a point to do this this week! Visit the two posts before yours and at least one other blogger's post of your choice! I want to see lots of clicks on everyone's posts. I know as a blogger, you know how it feels not receive comments, right. 🙂 Plus, you could be honored as our Top Commentor if you submit your report to Mary! Remember it is also nice to follow them on their social media platforms like Twitter and Facebook.

Follow your hosts and co-hosts on their social media.

Tweet about the link up too.
[tweetthis]Come join the fun! Link up your family-friendly, book- or literacy-related posts at #LMMLinkup ![/tweetthis]
---
Linking up the great linkups listed on my Linkup Parties page. I updated it this week so be sure to check it out!