I hear a whale in my dining room. My grandson busily draws whales in a special book he is making, complete with sound effects that he provides.
"This is the humpback whale. "Waaoaoooooooooooaoaoo, whiieeeeeaooooooo. Uhup. Let's draw sharks. I think blacktip shark, a whale shark. Looks like they are going to be great friends."
"The whale shark is the biggest fish ever."
"You need a heading."
Their creative juices flow as they draw and write together interspersed with my grandson's spontaneous sound effects.
I also think back to church yesterday when the theme of the lesson centered on my life as a sermon to the lost. What do I show them?
My grandson's sermon is about God's wonderful creation of whales, sharks, and dolphins. He loves these creatures. His sister loves to help him create his books. He has written dozens now all about whales and dolphins.
I love hearing him teach about whales. He is fascinated by these creatures. I know one day he will become a marine biologist.
Meanwhile, my granddaughter is so sweet and helpful to him. She is my princess in making. She recently earned the Little Miss Abbeville title and will compete in the state pageant this summer.
Children are a blessing.
Just some thoughts for a Monday morning of literacy musings.
---
Now on to our weekly linkup. First, please follow me on your social media. I love to hear from you:
Blog/Facebook/Twitter/Pinterest/ Instagram/Google+
Next, lets review last week's linkup.
Last Week's Top Clicked
In this post, Karen writes poetically about The Beautitudes providing fresh insights as she reflects on her life. I love the simplicity. I know you will love the message too.
My Favorite Post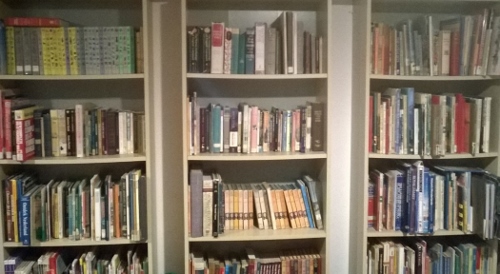 by Annie Kate
We all know the importance of reading aloud to our children. Annie gives some great tips you may not have thought about in her article plus she shares links to great resources. Be sure to check out this post.
Want to be the next to be featured! Just link up a post and if you are read the most, we will feature you. Also please make sure you link back to our community so others will know about our link up and join in. I will try to make it worth your while to link up by promoting your posts across my social media networks. I will also pin my most clicked and featured posts to our
#LMMLinkup 
Pinterest Board
 each week!
Remember to grab your button if you have been featured:
Are you joining the Write 31 Days challenge? Be sure to link up your posts below each week so we can keep up with your series and support you.
---
Now, it is time to link up to the Literacy Musing Mondays hop!
Linkup Rules:
Include a link back or the blog hop button linked to this hop on your posts.

Link up the URLs to your posts, not to your blog.

Please remember this is a family-friendly linkup. Although we believe in the right for adults to read whatever they want to read, we prefer to read wholesome posts that feature literature that edify and uplift families. We reserve the right to delete any posts that are not family friendly. We love all kinds of literature and genres including family-friendly inspirational romances, fantasy, or science fiction. We do not welcome any posts that feature excessive violence, sexual content, or any cursing. This rule also applies to book review posts that feature books that are not family-friendly. These posts will be deleted without notice to the blogger or explanation. While we believe in the right for all adults to read whatever they want, we feel our linkup is for family-friendly posts only. Thank you for understanding.

We also want to be a loving community by supporting one another. Please make a point to do this week! Visit the two posts before yours and at least one other blogger's post of your choice! I want to see lots of clicks on everyone's posts. Remember it is also nice to follow them on their social media platforms like Twitter and Facebook.

Also, note periodically I will send everybody updates on the linkup using your contact information you provided when you linked up. At the bottom of the notifications, you will be able to unsubscribe if you do not wish to receive these notifications.

Tweet about the link up too.
You are invited to the Inlinkz link party!
;