"If I have not the patience of my Saviour with the souls who grow slowly; if I know little of travail (a sharp and painful thing) till Christ be fully formed in them, then I know nothing of Calvary love." ~ Amy Carmichael

Patience is a circular process of expecting life to unfold, sometimes coming back to the same point; other times creating new loops and spirals that reach into each others lives like tendrils uncoiled. Each personal event feeds another's personal events; each choice leads to another door that leads to another into infinity.  We are just one part of a larger whole; humanity equals a microcosm of stories unfolding in the patience of time.
Or maybe patience is like a stream, ebbing its way through the landscape one trickle at a time; becoming an unstoppable flood when storms rain down into lives.
Patience compares to a  drought; yearning for rain to come in gentle mists or violent storms which fetch their own outcomes of peace or violence.
The rains unleash and then we loiter in the puddles for the sun to return with promises of growth and renewal.
[tweetthis twitter_handles="@MaryHill16″]Patience is something fleeting when we can't grasp what life is trying to teach us.[/tweetthis]
[tweetthis twitter_handles="@MaryHill16″]Patience is a tool God employs to hon our characters.[/tweetthis]
We can't turn to the back of our life-books to read the endings. We have to move forward accepting God's grace, and in faith, believing He knows how our stories unfold.
Patience holds hands with Love. The most beautiful fruit of all. We can't find Patience's beautiful sister without first embracing the truths Patience offers. We come full circle. We wait for each possible circuit to close in patience.
Continuing to write for 31 Days, an online writing challenge started by home blogger, Myquillyn Smith (The Nester), and now hosted by Crystal Stine, where bloggers pick one topic and write a post on that topic every day in October. I am also joining my friend Kate Motaung and my friends from the Five Minute Friday community during this challenge. Kate worked with community bloggers to develop the 2015 edition of 31 Days of Five Minute Free Writes, Readers' Choice Awards, a writing link-up in conjunction with the annual Write 31 Days Challenge.  For the five minute, free write sessions, Kate encouraged bloggers to submit ideas for one-word prompts for each day of the challenge. Today's word: "Patience."
Also joining these hops: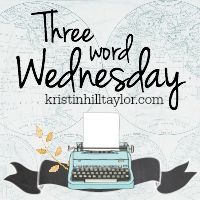 And: LifeGivingLinkup, Tell Me A Story Tuesdays,  Tuesdays with a Twist,  Words With Winter Linkup, Grace at Home party,  #Grace &Truth , #LiveFreeThursdays, Faith & Friends, Faith Filled Fridays, Fellowship Fridays,Friendship Fridays, #DanceWithJesus Friday Linkup andFridays Unfolded.
Be sure to check out my
linkup party page
for more great linkups that I join regularly.