Asking when complicates things. Patience is one area I lack; so, waiting for recoveries tires and tries me to my boundaries.
I wait for God's complete deliverance for my mom. Seeing her fall so many times and then looking at her black and blue minefield of a back creates fear in me. Her confusion subsides only to be followed by another bout of confusion and forgetfulness of the recent events in her life like her surgery and the weeks following.
When will this trial end? When will I find completion and answers to so many prayers being sent up for me and on behalf of my family members?
I think I am on the verge of coming to a dawn when we hit another setback.
How do you find faith in difficult times? What verses do you cling to? Can you be patient for God's when in your prayers?
I know God has delivered and seen us through each dark time. My mom's falling and confused state; her surgeries and my own husband's health issues, but I succumb to fear and doubt when another problem arises. My mom was supposed to go to rehab, but it is delayed. I hope it will happen soon; until then she remains in the hospital.
When going through stormy times, I find taking it one day at a time helps. Do not skip ahead. Face one challenge head on and then rest and prepare to take on the next.
Right now Isaiah 41:10 rings true in my life:
So do not fear, for I am with you;




    

do not be dismayed, for I am your God.




I will strengthen you and help you;




    

I will uphold you with my righteous right hand.
What scriptures do you cling to when you are awaiting God's answers and help?
---
I wrote this post for the 31 Days of Five Minute Free Writes and the Write 31 Days 2018 challenge.
You can learn more about the 31 Days of of Five Minute Free Writes 2018 by clicking on the icon below:
The 31 Days of Five Minute Free Writes is annual tradition inspired by the Write 31 Days challenge, which takes place every October.
You can see other blog posts by visiting my introductory page: 31 Days of Five Minute Free Writes: A Faith Journey.
---
Now on to our weekly linkup. First, please follow me on your social media. I love to hear from you:
Blog/Facebook/Twitter/Pinterest/ Instagram/Google+
Next, lets review last week's linkup.
Last Week's Top Clicked
Three Way Tie: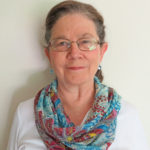 By Carol at Labor of Love
Carol shares her journey as a writer who reads. She shares some great thoughts to ponder.
Michele offers both a book review and background information on a wonderful program that offers hope to women and children who are trapped in lives of addiction, prostitution, abuse, and fear. This post will really uplift and teach you about a very important issue.
By Rachel at Be Thee Inspired
Rachel reminds us of the importance of showing the love of Christ to all in a very personal post about her experiences of loving her sister who came out to her. We may not agree with or condone the LGBT lifestyle, but Rachel points out that as Christians we need to show them the true love of Christ. This post is very thought-provoking.
My Favorite Post
Today's word on the 31 Days of Five Minute Free Writes is when; so the title drew me in. What I read here really helped me in my season of waiting for my mother's healing. I know it will help you as well.
Want to be the next to be featured! Just link up a post and if you are read the most, we will feature you. Also please make sure you link back to our community so others will know about our link up and join in. I will try to make it worth your while to linkup by promoting your posts across my social media networks. I will also pin my most clicked and featured posts to our #LMMLinkup Pinterest Board each week!
Remember to grab your button if you have been featured:
Are you joining the Write 31 Days challenge? Be sure to link up your posts below each week so we can keep up with your series and support you.
---
Now, it is time to link up to the Literacy Musing Mondays hop!
Linkup Rules:
Include a link back or the blog hop button linked to this hop on your posts.

Link up the urls to your posts not to your blog.

Please remember this is a family-friendly linkup. Although we believe in the right for adults to read whatever they want to read, we prefer to read wholesome posts that feature literature that edify and uplift families. We reserve the right to delete any posts that are not family friendly. We love all kinds of literature and genres including family-friendly inspirational romances, fantasy, or science fiction. We do not welcome any posts that feature excessive violence, sexual content, or any cursing. This rule also applies to book review posts that feature books that are not family-friendly. These posts will be deleted without notice to the blogger or explanation. While we believe in the right for all adults to read whatever they want, we feel our linkup is for family-friendly posts only. Thank you for understanding.

We also want to be loving community by supporting one another. Please make a point to do this this week! Visit the two posts before yours and at least one other blogger's post of your choice! I want to see lots of clicks on everyone's posts. Remember it is also nice to follow them on their social media platforms like Twitter and Facebook.

Also note periodically I will send everybody updates on the linkup using your contact information you provided when you linked up. At the bottom of the notifications you will be able to unsubscribe if you do not wish to receive these notifications.

Tweet about the link up too.
---